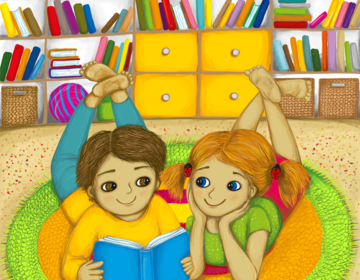 How are we working in the new school year? We are open, you can borrow books, go to events or use the place to study.
Attention! We are still operating in a restricted regime and it is necessary to maintain current government measures.
Hygiene measures
You will only be able to enter the branches with our nose and mouth covered with an FFP2 respirator or nanotowel.
Keep a distance of two meters between each other, even when waiting in front of the library.
Follow the instructions of librarians.
An overview of the most important information
You can borrow, return, pick up reservations, choose books of your choice and sit with a book for a while.
You can use fixed internet stations for 60 minutes. You can use Wi-Fi.
The number of visitors in the library is limited by the rule of 1 person to 15 m2.
Cultural and educational events take place directly in the library and online.
Disinfection is available in all branches and areas designated for the public.
Operating hours are still limited. Before visiting the library, we recommend checking the current status at www.mlp.cz/en/branches.
We organize physical events in the halls of the Central Library and at branches. The conditions set by the Ministry of Health apply to them.
Do not hesitate to ask
Do not hesitate to ask us anything by phone at +420 222 113 555, by e-mail at knihovna@mlp.cz or on Facebook. You can also use these contacts to request an extension of your loan.