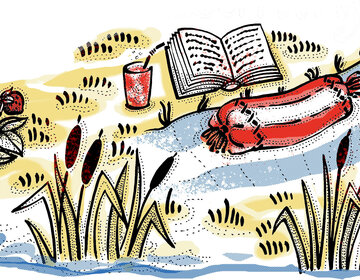 Do you have plans for holiday? Include the library and reading in them!
The Municipal Library of Prague is open during the holidays, and from mid-June you can borrow reading materials for the whole holidays. E-books are a good choice if you want to travel light, and there's also a varied program of cultural events.
Cinema, theatre and open-air author readings
Holidays with the library traditionally start with the Library on Waves festival, which offers author readings, theatre and music on Mariánské náměstí square and in the Avoid ship harboured at the Prague's waterfront. Mariánské náměstí (Prague 1) square will then serve as a stage and auditorium for summer film screenings, concerts, theatre and readings for children. And while you're there, take a peek inside the Central Library building, where the iconic IDIOM, a column made of books, stands in the lobby.
Books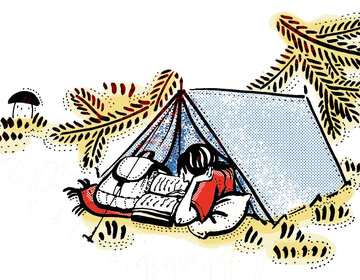 Holidays in the company of books Take advantage of the extra-long borrowing period and take the books with you on a holiday. Books borrowed from 13 June 2022 to 24 July 2022 can be returned in September or October. However, the library will be open during the holidays as well. Please note the holiday opening hours, which are valid from 1 July to 31 August 2022 and during the holiday closure which starts on 25 July to 7 August 2022.
Books can be returned even if the library is closed. When the library is closed, you can use the return boxes at the Opatov, Jezerka, Hloubětín and Lužiny branches or return the books at the Central Library (entrance from Valentinská street). For returning and borrowing books, you can use the self-service Kiosk in the Černý Most Centre, which will be open without restrictions from Monday to Sunday from 9 am to 9 pm.
E-books
E-books on the go. E-books from the E-library can be downloaded free of charge for reading on mobile phones and readers. The offer also includes titles in English. Thanks to the library and the PressReader service, you can stay up-to-date on world events every day via foreign newspapers such as The Washington Post or flip through lifestyle magazines.