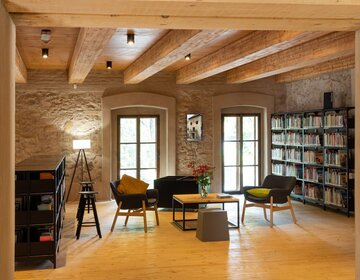 The café and our branch in Velký mlýn are now open.
Velký mlýn
The Velký Mlýn is a Baroque monument that has stood on the banks of the Rokytka River in Libeň (Prague 8) since the 16th century. For many years the mill building was empty. In 2022, the Prague 8 municipality entered into an agreement with the Velký mlýn Association, which started the adaptation of the mill into a cultural centre. The first part of the modifications is finished and therefore on Monday 24 July 2023 the Velký mlýn library branch and café started its operation. There will be trial runs throughout the holidays. The grand opening is scheduled for the afternoon of Monday, September 4, 2023.
A non-typical branch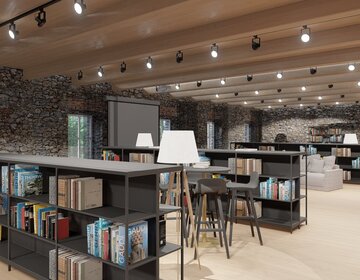 Velký mlýn is an atypical branch that connects the library to the cafe. Thus, the branch will be open just like the cafe, i.e. 7 days a week from morning to evening. We have not offered this format of service before. Therefore, we see the holidays as a time for a pilot operation, which will show how to adjust the operational setup if necessary to make the branch services really convenient for people.
| Days of the week | Opening hours of the Great Mill |
| --- | --- |
| Monday | 13:00 – 20:00 |
| Tuesday | 09:00 – 20:00 |
| Wednesday | 09:00 – 20:00 |
| Thursday | 09:00 – 20:00 |
| Friday | 09:00 – 20:00 |
| Saturday | 09:00 – 20:00 |
| Sunday | 09:00 – 20:00 |
You might be interested in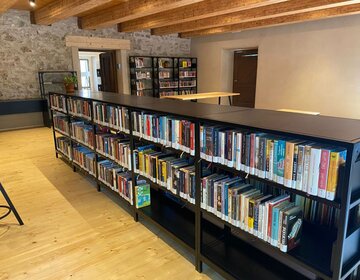 The Velký Mlýn branch of the library will offer the public a choice of 3,800 volumes, Wi-Fi access, and the opportunity to use the comfortable seating area or the children's corner. We are looking forward to the residents of Libeň and the wider area, seniors, mothers with children, as well as schools, for whom we are planning a range of thematic programmes from the new school year. During the holidays, there will be board games or book exchanges.