A virtual card is a portable barcode that you can use instead of a physical card (MLP card, "Lítačka" card, ISIC, In Karta). You can use the virtual card to access all of our services. You can loan books and other documents, use study spaces, book computers for Internet access or work in shared workshops. You can share the virtual card with other people and give them access to the library's basic service – loaning books, including picking up your completed book reservations. You can set up your virtual card in My account.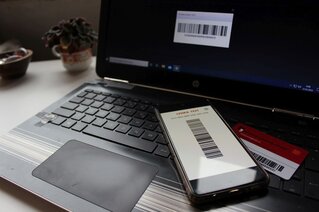 Instructions for creating a virtual card
Click on the "View" button in the "Card" section.
In the "My Cards" section, click the red "Create a new virtual card" sign.
Read the important notice and, if you agree, click on "Agree".
You set your username, validity period and PIN for the virtual card. Then click the "Confirm" button. Good to know: If you do not change the validity period, it will be the same as the validity of your membership. Likewise, if you do not enter a PIN, the current PIN for your account will be used for the card as well.
You will receive a "Card has been successfully created" message and your new virtual card is ready to be used.
In the cards section, in addition to "physical" cards, all virtual cards will also be displayed. You can then download them in PNG format as an image. You can edit them and block them if needed. Attention! Unblocking is only possible at one of our branches or via a ZOOM video call, which is possible from Monday to Friday, from 3 PM to 8 PM. In both cases, you will be asked to provide a proof of identity.
Pricelist
| What you pay for | How much does it cost |
| --- | --- |
| Registration fee | CZK 60 |
| MLP card | CZK 20 |
| Virtual library card | Free of charge |
| For a legal person for each designated natural person | CZK 60 |
| Reader younger than 15 years, older than 70 years and with TP, ZTP, ZTP-P card | Free of charge |