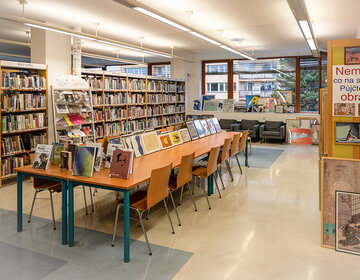 Readers can find the Artotheque, one of the specialised services of the Municipal Library in Prague, at the Opatov branch (Prague 11).
Where to borrow a painting? At the Artotheque! 
As the name suggests, it is a place that focuses on fine art in its entirety. It offers a wide selection of not only books on fine art, but also paintings.   
Not only does the Artotheque exhibit paintings, but also lends them out. Visuality is an important part of human life, and borrowed paintings allow us to quickly change the atmosphere of a space in which we spend time. Whether it's a living room, an office, or a dorm room. The selection of paintings in the Artotheque is wide, from framed reproductions of works by Czech and international painters through a representative collection of Czech prints from the second half of the twentieth century to the present.  
The book collection consists of documents from the field of art history, art theory, architecture, photography, painting and sculpture. The collection is complemented by live art in the form of exhibitions in the foyer of the Opatov branch. These exhibitions present the works of contemporary Czech visual artists – graphic artists, painters, illustrators or photographers. The Artotheque also organises art workshops and lectures focused on the history and present visual arts.